Welcome... thanks for stopping by!
You have caught me in the midst of a complete re-do of this website. There's a lot of very good information here, but you may also find some that is out of date. Thanks in advance for your patience while I upgrade and update. For now, here are the essentials you need to know...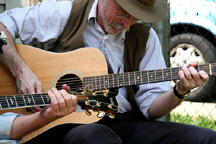 Photo: Thomas Lampe
Community Guitar is founded on the notion that the best music is the music we make together. To that end, I offer high quality group instruction to adult acoustic guitarists who really want to be jamming with others rather than playing alone. I live in Northampton, MA and in recent years all my classes -- as many as 6 per week -- have been held in Florence.
There are three ten-week sessions of Community Guitar classes per year -- fall, winter and spring. In these multi-week classes, participants learn shared repertoire, develop skills and get to know one another...all in one neat package.
That's the idea of Community Guitar in a nutshell: to bring the right songs, the right skills and the right people together. That's a recipe that makes for great music in good company.
You can learn about the upcoming class session by following the Join the Community link. If you'd like me to keep in touch about Community Guitar offerings as they come available, please jot me a note to that effect at the email address you see at the bottom of this page. I'll add you to my mailing list and you'll hear from me very occasionally.
I look forward to working and playing together!
Andrew Lawrence
Community Guitar
413.320.8154
andolawrence AT gmail DOT com