Baby Won't You Please Come Home
Baby Won't You Please Come Home is usually attributed to both Charles Warfield and Clarence Williams, though after the song was an established standard Warfield claimed to have penned it alone. No one who knows anything about the music business—then or now—would find that claim unlikely or shocking. A songwriter doesn't make money on a song unless it has been placed with the right artists and, at least back then, printed and widely distributed as sheet music. Those functions are the role of the music publisher and Clarence Williams, in addition to being a musician himself, excelled at them. A publisher is always due a percentage of the royalties to a song (typically 50%) but if that doesn't seem enough (and when does it ever?) he can insist on a composer's credit as well, upping his share of the royalties to upwards of 75%. Nice work if you can get it.
The first artist Williams' placed the song with was a well-known vocalist who also happened to be his wife, Eva Taylor. That was in 1922, three years after the song was penned. The following year the piece got a much more historically significant treatment by the Queen of Classic Blues herself, Bessie Smith of whom the folks at RedHotJazz.com have this to say by way of introduction:
Bessie Smith was a rough, crude, violent woman. She was also the greatest of the classic Blues singers of the 1920s.
Once Smith had had her inimitable way with it, the song made it to #6 on the charts. It was to chart twice more within just the next nine years and has since then been recorded by many and varied artists. Here's a bit of the Bessie Smith recording that really got this song rolling our way down through the decades.
Audio Clip: Bessie Smith sings Baby Won't You Please Come Home, 1923
Although Smith is generally categorized as a Blues singer, the lines between Blues and Jazz were not so clear in the teens and twenties of the last century and the majority of the musicians who have recorded Baby Won't You Please Come Home would be considered Jazz musicians today. Among them was a contemporary of all the artists named above, Sidney Bechet. Best known as a soprano sax player, Bechet was born in New Orleans and though he lived much of his life elsewhere—including Europe—he will be forever associated with that city's signature style of ensemble Jazz. Here's a fine and fun example:
Audio Clip: Sidney Bechet and ensemble playing Baby Won't You Please, New Orleans-style
If an early New Orleans-style Jazz outfit included any fretted instrument at all it would most likely have been a plectrum (4-string) banjo. In the 1920's that instrument largely gave way to the tenor guitar, a 4-stringer tuned like the banjo, in fifths, which made the transition from one instrument to the other relatively easy. When the tenor guitar gave way in turn to the 6-stringed variety, some guitarists retained the tenor tuning on at least four of the strings either because they prefered the sound or, again, because it was what they already knew. Some players of the era—the great Carl Kress, for example—traced the entire arc of this shift in preference, playing banjo, then tenor, then 6-string guitar over the course of their careers.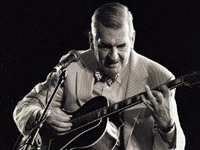 The German-born Marty Grosz is one of very few contemporary musicians who still plays guitar in this quasi-tenor guitar tuning. From low to high string it works out to: Bb, F, C, G, B, D. You won't get Dust In The Wind out of that tuning, but you can get some great rhythm and chord-melody work, and these are Grosz's stock in trade. Here he is taking a chorus on our song:
Audio Clip: Marty Grosz plays a chord-melody solo on Baby Won't You Please Come Home
The song has also been picked up by Western Swing players, including the most famous of them all, Mr. Bob Wills. This last audio selection is from a well-known collection of Wills' work known as the Tiffany Transcriptions. As a reviewer at americanaroots.com explains:
A "transcription" was a 16" 78 RPM acetates that an artist would take into the studio and perform their show on, often with recorded commercials for their sponsor. These discs were then licensed to radio stations so that they might have marquee artists on their station.
In 1945 Wills and a couple business partners formed Tiffany Music to provide the transcriptions to radio stations in the western states. Compared with their strictly commercial recordings, these transcriptions tended to offer longer, more spontaneous takes on their repertoire and over time they came to be highly prized both for their musical quality and as collectors items. In total the Tiffany Transcriptions constituted some 26 discs of 10 songs each. The originals are still collectors items, of course, but they were remastered and released in 2009 as a 10-CD boxed set. So now even those of us who can't afford first pressings get to enjoy twin fiddles and Tommy Duncan at their best. Like this here...
Audio Clip: Bob Wills & His Texas Playboys perform Baby Won't You Please Come Home