Blues Stay Away From Me
Blues Stay Away From Me was a busy song in the years 1949-'50. It charted first (hitting #7) in 1949 for Eddie Crosby. The Delmore Brothers had a #1 hit with it in January of 1950 and it charted again later that year for Owen Bradley. Since then it has been recorded by a large number and wide variety of artists, including Les Paul and Mary Ford, The Band, NRBQ, Ray Price, Doc Watson, Korma Kaukanan and Mark Knopfler. And that's the short list. We'll sample a couple of them below, but let's take it from the top with a clip from the original 1950 recording:
Audio Clip: The Delmore Brothers on Blues Stay Away From Me
The Delmore Brothers share the song writing credits for this enduring and adaptable country classic with Wayne Raney and Henry Glover. Among many other credits, Raney played harmonica with the Delmores. In a 1973 telephone interview with Dorothy Horstman, he shared this recollection of how the tune came to be:
About four o'clock one morning in Cincinnati's Gibson Hotel, Alton and Rabon Delmore and I were getting ready for a recording session the next day. Alton knew a guitar riff he had learned from Henry Glover, a black songwriter on the King Records staff at the time. We decided to put words to it and a song was born. We recorded it the next day.
— Reprinted in Sing Your Heart Out, Country Boy, New York, 1976, p. 161
That riff provides the template for the second rhythm part in our arrangement of the song. It's source, Henry Glover, was much more than a "black songwriter". According to Steve Huey (All Music Guide) Glover was "one of the first truly successful black executives in the music business, rising to prominence in the late '40s with Syd Nathan's independent (and white-owned) King label." Glover and the Delmore Brothers were blazing trails by working together in this fashion on Blues Stay Away and in the process they not only crafted "a pre-rock & roll fusion of black and white sensibilities, [but also] made Glover quite probably the first black producer in country music history."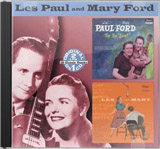 Les Paul and Mary Ford gave Blues Stay Away the slow, sultry treatment not long after. In the clip that follows you can hear enough of Mary's singing to see what I mean, but the clip includes an entire chorus by Les on electric guitar (in fact, on two electric guitar which I assume were overdubbed). As you will hear, it's not a flashy solo and would make a good ear training exercise if you're in the market for one.
Audio Clip: Les Paul and Mary Ford on Blues Stay Away From Me
Now compare that solo to what lead guitarist Dave Salyers has to say on this one. It's from a recording put out by Jesse McReynolds (mandolin and lead vocals) & Charles Whitstein (guitar and harmony vocals) in 2005 called A Tribute to Brother Duets. Salyers is mostly playing fills based on 7th chords and blues scales in the breaks between vocal lines. You may not be able to snag the exact riffs, but you can certainly put these elements to work for yourself when it comes time to craft your own solo to the tune.
Audio Clip: Jesse McReynolds and Charles Whitstein on Blues Stay Away From Me
Recommended Recordings