C. C. Rider
Gertrude Pridgett was born in 1886 into a family performing in minstrel shows. She began taking the stage herself around the age of 14 and only two years later married William "Pa" Rainey, who lent her the name under which she made music history as the "Mother of the Blues", "Ma" Rainey. For someone who moved fast through other of life's milestones, she took her sweet time before making her first record on the Paramount label in 1923. She recorded See See Rider Blues late the following year with her Georgia Jazz Band, an outfit that included some of the best jazz musicians of the day, including Louis Armstrong and other members of the top-rung Fletcher Henderson Orchestra. The song hit big in 1925 and it has been a jazz and blues standard of the first order ever since. Here's a clip of that 1924 recording. I've taken the liberty of including the long introductory verse, a common (and just as commonly, dropped) feature of popular songs of that era.
Audio Clip: Ma Rainey and her Georgia Jazz Band on See See Rider Blues, 1924
The song's title varies from time to time and artist to artist. Ma Rainey, as we have seen, called it See See Rider Blues, but C.C. Rider and even Easy Rider Blues are common alternatives. Even more diverse are the explanations of the title. The most common view is that See See Rider is synonymous with "easy rider", but then views on that term again begin to diverge. Something to do with sex. Or trains. Or both. Could be that the temptor/temptress leading the song's protagonist astray was a travelling preacher or, worse yet, musician "riding" the "Country Circuit" (also known down south as the "Chitlin' Circuit"; whatever, as long as it has two C's), leaving a trail of broken hearts in his/her wake.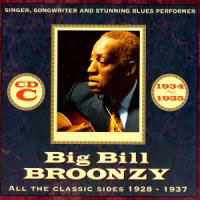 If the vagueries of the song's title were not enough, our next audio clip is from an artist who for the first 20-odd years of his recording career couldn't even use his own name consistently from record to record. Credited as Bill Williams, Big Bill Johnson, Sammy Sampson, etc, we would later know and love him as Big Bill Broonzy. Like Ma Rainey's, Broonzy's recording career started on Paramount, and only four years later, in 1927, though he was much younger than her at the time. Broonzy is best known among guitarists these days for his solo country blues output, but this next clip features his work in the mid '30's with a group calling itself Big Bill and Cool Tones, consisting of Black Bob Hudson on piano and Zeb Wright on violin. Notice that they perform the song in a 16 bar form, which is a common variation on C.C.. Go ahead now, try not to tap your foot to this.
Audio Clip: Big Bill and Cool Tones on C. C. Rider, circa 1935
While we're on the topic of 12 bar versus 16 bar blues, it's worth digressing a moment to recall that many true folk musicians couldn't care less about the "formal" element of song form. When some boring old music teacher—like, say, me—tries to put a song like this down on paper, he or she tames the wild thing by forcing four beats into each measure, each bar a little cage, then arranges the cages into a tidy "chord progression". We mean well, really. Just trying to be helpful. But someone like the great Texas bluesman Lightnin' Hopkins didn't learn the song from no stinkin' page, and he could be critical of those who do. This is from a 1968 interview he did with the L.A. Times:
People have learned how to strum a guitar, but they don't have the soul. They don't feel it from the heart. It hurts me. I'm killin' myself to tell them how it is. (Source.)
Some part—that wild, living part—of music dies when you put it down on paper, and when you play it it's your job to revive that part, breathing it back to life. That's all Hopkins is about on this vocal chorus and solo; beats, bars and arpeggios be damned. Great lyric, too: If I had listened to my second mind / I wouldn't be here (talkin' 'bout) ringin' my hands and crying. I've got a feeling most men get in trouble with C. C. Rider precisely by listening to their "second mind". But that's another digression altogether. This is from the fine JSP 5 CD set, Lightnin Hopkins All the Classics 1946-1951.
Audio Clip: Lightnin' Hopkins sings and plays See See Rider
The song was picked up by many early Rock N' Rollers, including at least three stallions in the Sun Records stable: Jerry Lee Lewis, Elvis Presley and (this was a surprise to me) Charlie Rich. Apparently, Rich was making his way as a jazz pianist and singer in Memphis when he got heard by a talent scout working for Sam Phillips. They suggested he try singing some Rock N' Roll. The rest is, as they say, history. Now tell me this doesn't sound like a Sun record:
Audio Clip: Charlie Rich sings C. C. Rider, 1960
Ma Rainey's recording was waxed at a time when the lines between Blues and Jazz were fuzzier than they are today and the song has been claimed by the latter tradition no less than the former. There are many recordings of C. C. by early jazz artists we might sample, but we'll close instead with one that at least approaches "contemporary" status. It's from a live recording by the 20th Concord Festival All-Stars orginally released in 1988. It opens with Red Holloway stating the melody on sax, followed by a couple tasteful choruses by Harry "Sweets" Edison on trumpet. I recommend Edison's solo as a study in what you might call prudent improvisational economy. Notice how he doesn't let go of a new motif until he has squeezed the juice out of it a second time, then once again for good measure. No clutter, no waste. The take-away: you can create interest in others by being, yourself, interested in the lines you're concocting. Copy this guy.
Audio Clip: The 20th Concord Festival All Stars jamming on C. C. Rider