Friend of the Devil
"I like 'Friend of the Devil'; I thought that was the closest we've come to what may be a classic song." --Robert Hunter. (Relix, Vol. 5, #2, p. 25.)
Should you ever come as "close" to falling off a roof as Hunter, Dawson and Garcia have to writing a classic song with Friend of the Devil, I hope there's a strong net below.
The bulk of the song is Robert Hunter's own work as best I can tell from the recollections he shared in his online journal, later passed along by David Dodd in the fascinating installment in The Annotated Grateful Dead Lyrics devoted to this song. Here's a snipet from Hunter, gleaned (with gratitude) from Dodd:
I was just remembering how Friend of the Devil got written. First off I wrote these four verses one afternoon back in 1969.

I was living in Madrone canyon with the Garcias. The NRPS had asked me if I wanted to play bass with them and it seemed like a good idea at the time. So I worked up that song on bass, added a few verses plus a chorus and went over to where David Nelson and John Dawson were living in Kentfield and taught them the tune. The "Sweet Anne Marie" [section] was only one of the verses, not yet a bridge.... The chorus went:

I set out running but I take my time
It looks like water but it tastes like wine
If I get home before daylight
I just might get some sleep tonight.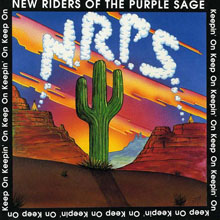 "NRPS" is shorthand for the New Riders of the Purple Sage, of which the later-mentioned David Nelson and John Dawson were founding members. It was apparently Dawson who suggested changing the 2nd line of the original chorus (above) to, A friend of the devil is a friend of mine. Everyone agreed that was just the fix the tune needed and the assembled musicians hightailed it Nelson's room where they recorded a demo of it. Here's a sampling of how the New Riders ended up playing the song:
Audio Clip: New Riders of the Purple Sage play Friend of the Devil
Frankly, if that had been the only version of the song to be released, I don't think we'd be playing it today. But as luck would have it, Jerry Garcia was playing pedal steel (talented guy) with NRPS in those days and, as noted above, Hunter was crashing at his place. So, back to his story...when last we met our heros, they had just excitedly recorded a rough demo of the newly minted Friend of the Devil. Hunter continues...
I took the tape home and left it on the kitchen table. Next morning I heard earlybird Garcia (who hadn't been at the rehearsal - had a gig, you know) wanging away something familiar sounding on the peddle steel. Danged if it wasn't "Friend of the Devil." With a dandy bridge on the "sweet Anne Marie" verse. He was not in the least apologetic about it. He'd played the tape, liked it, and faster than you can say dog my cats it was in the Grateful Dead repertoire.
...And stayed in their repertoire from that day forth. The Grateful Dead first performed it in February of 1970 in San Francisco. Later that year it became the second track on their now-classic album, American Beauty. At that time, they were performing it as an acoustic number and at a pretty good clip (as we will.) Here's a sampling of that cut:
Audio Clip: The Grateful Dead's original take on Friend of the Devil, American Beauty, 1970
Since our Community Guitar arrangement doesn't provide the melody for the bridge -- and you may not know it -- here's clip from that same recording that shows you what earlybird Garcia came up with for that section, working from Hunter's original verse.
Audio clip: the bridge to Friend of the Devil from American Beauty
The mandolin you hear on that take is none other that David Grisman. He and Jerry Garcia would revisit the song 20 years later on their exquisite Acoustic Disc outing, Jerry Garcia And David Grisman.
Audio Clip: Jerry and Dawg refriend the devil, Jerry Garcia And David Grisman, 1991
| | |
| --- | --- |
| | You could forgiven for presuming that the more relaxed tempo of that 1991 recording reflects the mellowing influence of age on the musicians. But having graciously forgiven you your ageism, some wise old Deadhead could then knowingly point out that, well, you're wrong: that the Dead had been playing an electrified FOTD slow and stately-like since way back in the day. "Why, I remember," she might say, "hearing them just effin' kill it at the Oakland Auditorium Arena in 1979." Eyes rolling back in her Dead-like scull, once-illegal smile on her wizened face, this is what she'd be hearing inwardly, caring never to return from her long, strange trip down memory lane... |
Audio clip: The Grateful Dead perform Friend of the Devil live in 1979, from Dick's Picks #5
Over the years an impressive list of performers have covered FOTD, among them Bob Dylan, Tom Petty, Lyle Lovett, Chris Smithers and Jorma Kaukonen. For the most part, they fall into the two broad categories established by the Grateful Dead themselves: y'er 'coustic and y'er 'lectric. In the interest of fairness and balance, we'll go out with one more of each flavor.
First, representing wooden music we have the bluegrass supergroup Rice, Rice, Hillman and Pedersen. Larry Rice is on the vocal and brother Tony takes the lead I've included on the audio clip below. You are invited and encouraged to borrow his ideas for your personal riff collection.
Audio clip: Rice, Rice, Hillman and Pedersen give Friend of the Devil the bluegrass treatment.
Then for our big finish we'll let Counting Crows take us out with high production values. The song was included on their Films About Ghosts which purports to be a greatest hits album. Except they'd never released this song before. I guess they never did say whose hits -- the devils!
Audio clip: Counting Crows, from Films About Ghosts, 2003