Georgia On My Mind
Those who have the qualifications for a career in both music and the law typically follow a trajectory from the former to the latter, once the chilly winds of the music business have blown the stardust out of one's eyes. In the case of Hoagy Carmichael, though, it was the lower rungs of the legal ladder that seemed too cold to the touch, the temptations of Hot Jazz too tempting to resist. As the story is told at Red Hot Jazz, Carmichael was working in Florida as a law clerk after graduating from Indiana University when he heard a recording of one of his early compositions, "Washboard Blues", performed by Red Nichols and his Five Pennies. Encouraged and inspired, he decided to make a real go of it.
To keep that stardust from getting blown out of his eyes he put it into a song and his 1927 composition, "Stardust" became one of the most recorded of the 20th century. Other standards to his credit include "Rocking Chair", "Up A Lazy River", "Everything Happens To Me", "Heart And Soul" and "The Nearness Of You."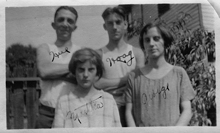 And this one called "Georgia On My Mind". The lyric to that tune is by Stuart Gorrel, a law school chum of Carmichael's who went on to a career in banking and never wrote another lyric in his life. That lyric is—one would think, intentionally—vague as to whether the object of the singer's affection is the state or a person, but the photo to the left includes one of Hoagy's own sisters, Georgia Carmichael and most commentators report that the song was written with her in mind. That didn't stop the state of Georgia from making it the official state song in 1979, some 40 years after Hoagy Carmichael And His Orchestra debuted it with Bix Beiderbecke on cornet, the latter playing what would prove to be his last recording date before his death at age 28 the following year.
Audio clip: Hoagy Carmichael sings his Geogia On My Mind.
The song was picked up right away by other artists of that era. Bandleader and saxophonist Frankie Trumbauer had a #10 hit with it in 1931. Louis Armstrong recorded it around that time as well. As you can hear from his and Carmichael's own take on it, the song was routinely played at a much jauntier tempo then than now.
Audio clip: Louis Armstrong and his Orchestra perform Georgia On My Mind
But if most of us can sing at least a line or two of "Georgia" it is owing directly or indirectly to the 1960 cut of the song by Ray Charles, a recording that gave Charles his first #1 hit and two Grammy's. The songs sits at #44 on Rolling Stone's list of the 500 Greatest Songs of All Time, where they they recount that "Charles' driver had heard him singing "Georgia on My Mind" in the car and suggested that Charles add that to the record he was working on, an album consisting of songs with place names in their titles." There—another good reason to sing in the car. If you try it in the studio, though, it would help to have Sid Feller as producer, as on this, the most memorable recording of "Georgia" to date:
Audio Clip: Ray Charles sings "Georgia On My Mind"
In the decades since Charles' recording of the song there has been a steady stream of covers in a variety of styles. Willie Nelson included it on his popular 1978 album, Stardust, and earned a Grammy for Best Country Vocal Performance for his troubles. You can find that one easily enough for yourself online. Let's go out with two good ones you might not have heard. The first is a stripped down arrangement from flatpicking-icon Tony Rice's 1977 album California Autumn. Nice to be able to hear his trademark guitar work so clearly...listen:
Audio Clip: Tony Rice's "Georgia On My Mind" from California Autumn
And we'll wrap up with a wonderful jazz singer whose name you may not recognize, Etta Jones. (Not to be confused—as she was on the youtube link that led me to her—with Etta James) She only had one recording sell over a million copies—Don't Go To Strangers, which, as it happens, came out the same year as Ray Charles' big hit with "Georgia", 1960. Her modest commercial success owed less to her attributes as an artist—to which our closing cut will amply attest—than to those chill winds of the music business we started with, blowing stardust where they will.
Audio Clip: Etta Jones sings "Georgia On My Mind"