Jug Band Music
William Shade Jr. (shown right, and also known as Son Brimmer) was born in 1898 to William Sr. and Mary Shade. He was later to credit his mother with teaching him to play the instrument on which he was most influential, the harmonica. But it's another instrument many would later associate with the name Will Shade, and that would be the jug.
If you've had any exposure to jug band music -- and if you're an American, you have -- it was probably a song from the repertoire of either Will Shade's Memphis Jug Band or Gus Cannon's Jug Stompers. Though now we would most likely characterize this music as country blues, in its earliest incarnations there was no such distinct idiom, not even in W.C. Handy's Memphis. Jug bands played hokum, ragtime, early jazz, minstrel show tunes...whatever might get folks dancing and land a few coins in the cup.
The Memphis Jug Band was perhaps the most recorded of all the jug combos, waxing somewhere around 100 sides for Vocalion and other labels between 1927 and 1934. Jug Band Music was recorded on their very last recording date, November 8, 1934, under the odd title Jug Band Quartette. Here's how they performed the tune back in the day:
Audio clip: Jug Band Quartette, Memphis Jug Band, 1934
The Great Depression was hard on the recording industry and the jug bands were among the many musicians winnowed like so much chaff in its unforgiving breeze. The jug was largely silenced until the 1960's, when folk music revivalists revisited this musical tradition along with so many others. Chuck Cuninale provides an overview of that revival in his short history of the jug band tradition published in 1998, naming names, a few of which you might recognize:
The best of these second generation groups, Jim Kweskin's Jug Band, borrowed heavily from the material of both Shade and Cannon. The Even Dozen Jug Band, The Holy Modal Rounders, Taj Mahal, Dave Van Ronk, and Arlo Guthrie also had hands in popularizing the old tunes.

The music slipped into the pop world, too. John Sebastian was a member of the Even Dozen group before he crossed over to the pop side with his excellent band The Lovin' Spoonful. ... The Grateful Dead covered [several jug band tunes] and its late leader Jerry Garcia, was a jug band guy himself, having played, pre-Dead, in a band called Mother McCree's Uptown Jug Champions. Even the mighty Beatles fell under the influence; John Lennon's first band, The Quarrymen, was a skiffle band, complete with acoustic guitars, banjos, and a wash tub bass-like instrument made from a tea chest.


One jug band tune—Cannon's "Walk Right In"—even became a number one hit. The Rooftop Singers, a New York City folk group that made Up With People sound exciting, reached the pinnacle of pop with their nondescript cover.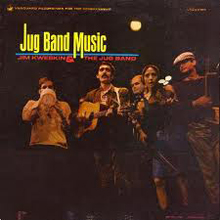 Though many of the artists mentioned above lifted the jug occasionally for a time, one of them—Jim Kweskin— came to be primarily associated with the tradition. He pulled off the difficult manuever of both respecting and updating a style of folk music that, by then, would already have been considered "traditional." To respect the tradition meant retaining the integrity and vitality of the source material—the reperttoire, of course, but also the gangly passion of it, the irreverence and lewd humor, the skiffly mix of cast-off instruments played well. Updating it meant changing some lyrics, upgrading the production values, and maintaining a high level musicianship. To that latter end, Jim Kweskin's Jug Band drew real talent, including Geoff and Maria Muldaur and banjo great Bill Keith. If any musician of that era can be said to have made a serious career of playing wash tub bass and jug it would be Fritz Richmond, who played in the Kweskin outfit. As far as I know, it was Kweskin who reintroduced the tune to musicans and audiences alike, renaming it simply Jug Band Music. I believe it was Geoff Muldaur who updated the lyrics. Here's a sip from their jug:
Audio Clip: Jim Kweskin's Jug Band plays Jug Band Music, 1965
Though I can't think of any really prominent purveyors of the style these days, jug band music is now well established as a niche that will always have its avid fans and earnest performers. It is good-time music, welcoming to both skilled musicians and those with but a thimble-full of talent. That thimble, after all, is just what you need to play the washboard!
And whether the repertoire penned and performed by the early greats is played with proper jug band instrumentation or not, it's safe to say that the catalogue they established will be explored and exploited from here on out—as it is here in our last clip, from Lucinda Williams. I can say this with such confidence for one main reason: 'Cause it sounds so sweet. It's hard to beat!
Audio Clip: Lucinda Wiliams, Jug Band Music, from her 1991 recording debut, Ramblin'.