It's My Lazy Day
If you happen to be a big fan of Petticoat Junction reruns, you'll recognize Smiley Burnette as the Cannonball Engineer, Charley Pratt. Then again, if your tastes run to the B Western you know him as Gene Autry's comic sidekick in dozens of films, the floppy-hatted Frog Millhouse. Wherever you encountered him, there's a pretty good chance you heard him playing an instrument—he is reputed to have played over a hundred of them, some of his own invention—and singing, and likely as not the song was one of his own. Burnette wrote hundreds of songs and many of them were featured in movies, starting with Momma Don't Allow No Music Played In Here from the 1934 film In Old Santa Fe. It's My Lazy Day is from 1944's Bordertown Trail, in which Burnette had top billing over the leading stud, Sunset Carson.
Accordion was one of Burnette's favorite instruments and for all I know he's playing it on this first audio clip; in any case, that's him on the lead vocal, singing his own song.
Audio Clip: Smiley Burnette sings It's My Lazy Day
The chime-along chorus featured on that last clip is characteristic of the so-called Nashville Sound that in the late 1950's took to Music City like kudzu on the Cumberland River. Then, the story goes, along came Outlaw Country in the persons of Wilie Nelson and Merle Haggard. Nowadays Willie is almost as well-known for his illegal smile and consequent brushes with the law as he is for his music. But back in the early 1970's, the laws that these two renegades were credited with breaking had nothing to do with controlled substances, but with Chet Atkins' uncontrolled use of string sections and cheesy backing vocals on hit records for over a decade. When asked what exactly made for the Nashville Sound, Atkins is reputed to have jingled the coins in his pocket and said, "It's the sound of money." Well, Willie and Merle have done alright in the other pocket. This one:
Audio Clip: Willie and Merle on It's My Lazy Day, from Pancho and Lefty, 1982
Both these men were inspired early on by Bob Wills and His Texas Playboys, so let's also have a listen to that iconic group's recording of Lazy Day from the Tiffany Transcriptions. The second rhythm part we use in our arrangement of the song has a bit of Western Swing in it; the strumming style would work well, I think, on the mid-tempo clip we're about to hear. The chord voicings we're using, though, owe more to Django Reinhardt than to Eldon Shamblin. So it's a mutt. Still, try it on a Hank Williams tune and see if they don't start two stepping.
Audio Clip: Bob Wills and His Texas Playboys on It's My Lazy Day
Photo: Anne Hamersky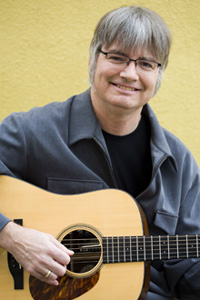 And to wrap up, here's a clip with two fine solos and tight harmonies to boot. The opening guitar break is by Scott Nygaard, a top-rung contemporary flatpicker whose playing is as understated as it is inventive. Try getting that combination right yourself and you'll appreciate just how good this guy is! The harmonized vocal comes courtesy of The Websters, a sister duo from the San Franciso area. The clip closes with John Reischman on mandolin. Did I already use the expression, "as understated as it is inventive"? Then words fail me. Just listen...
Audio Clip: Scott Nygaard and friends on It's My Lazy Day
(From Ten Thousand Miles by The Websters and Scott Nygaard. )