Little Sadie
If you're not too fussy about seeing the world from the perspective of a sociopath, this song has one of the great opening verses in all of traditional music:
Went out last night for to make a little round

Met Little Sadie and I shot her down

Went back home, got into bed

Fourty-four smokeless under my head.
Any questions?
In case that's not twisted enough for your tastes, the second line as sung by Clarence "Tom" Ashley evidenced a tad more bravado. His narrator "blowed" down his victim rather than settling for a mundane shooting. Ashley's version, first recorded in 1929, provides the template for many contemporary takes on Little Sadie—including our own—even if modern sensibilities make some of its lines hard on the taste buds. Here's a clip from that recording.
Audio Clip: Clarence "Tom" Ashley's 1929 recording of Little Sadie
But then, Ashley's world was not our own in many ways. He travelled seasonally with Doc White Cloud's medicine show from 1911 through 1943, contributing to the good doctor's effort to pedal colored water as a cure-all for a dollar a bottle. In the early forties, Charlie Monroe—whose brother Bill would later become the Father of Bluegrass—added Ashley to his act as a black-faced comedian. The man, in short, did what he had to do to scrape by in hard times and grab what he could when the world's fist unclenched a bit. If music wasn't providing what he needed to support his family he raised tobacco and cattle, hauled furniture, coal, and beans, and worked in sawmills and mines.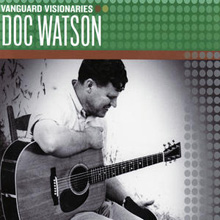 When entire cultures are made up of people struggling to survive with every ounce of pluck and ingenuity they've got, the stories they tell are not always going to conjure up pretty pictures or have happy endings. In Clarence Ashley's time and place—as in so many others—one expression of that darker creative impulse was the Murder Ballad or Bad Man Ballad. Doc Watson was born into a world of many such songs and over the years he has recorded several (Omie Wise, Banks of the Ohio, Tom Dooley), including this one. Doc played guitar on Ashley's come-back recordings when, after decades out of the music business, the latter was lured back into the studio in the early 1960's. He may well have learned Sadie from the elder banjo player. We're following Doc's lead by transposing the song from Ashley's Gm to Dm; but where we're using a G chord toward the end of the chord progression, Doc uses the V7 chord, A7.
Audio Clip: Doc Watson playing Little Sadie.
Often in murder ballads—and Little Sadie offers a clear example—the murder itself is mentioned almost in passing and few words are wasted on such details as the killer's motives or intent. Instead, the real point of the story is the warning implicit in the fact that the evil-doer is pursued relentlessly, ultimately meeting with stern justice. Though they may quibble over the "justice" of the matter, nobody could follow the broad arc of that story better than the convicts at a place like Arkansas' Cummins State Farm during the 1930's. That's where John and Ruby Lomax found Willy Rayford in 1939 while they were on a three-month, 6,500-mile trip through the southern states doing field recordings. Here's how Rayford sang his Bad Man Ballad to them:
Audio Clip: Alan Lomax's field recording of Willy Rayford's Bad Man Ballad, Cummins State Farm, 1939
Other versions of the song are played and sung in a major key and, if for no other reason, seem to owe little to the Ashley template. It's hard to deny, though, that songs such as Bad Lee Brown (sung below by Woody Guthrie) and Cocaine Blues (as performed here by Merle Travis and later by Johnny Cash, then George Thorogood And The Destroyers) share source material with the song we play as Little Sadie.
Audio Clip: Woody Guthrie strumming and singing Bad Lee Brown
Audio Clip: Merle Travis picking and singing Cocaine Blues
One way to deal with the discomfort we experience when confronted with the Shadow in a murder ballad is to render it farcical. Think Casper The Friendly Ghost. Better yet, think of the Cisco Houston / Lee Hays retelling of Sadie's tale under the title Badman's Ballad. In this rendering it's a deputy that gets whacked on account of the narrator "feeling kinda mean". I dare say. Still, it's hard to conjure up a proper sociopath through the fog of oohs and ahhs of The Kingston Trio's sprightly rendition. They called it Badman's Blunder, and yeah, that's about what it sounds like to me, too.
Audio Clip: The Kingston Trio perform Bad Man's Blunder.
It's hard to murder a good song, though, and so this one keeps being resurrected by players who aren't scared of the dark. The great flatpicker Tony Rice, for one, has tackled it a number of times. In the early 90's Sadie made it onto his low-key session with David Grisman and Jerry Garcia on The Pizza Tapes. But years earlier, in 1979, Rice had recaptured the song's dark flame on one of the seminal recordings of what came to be known as progressive bluegrass, or "newgrass". That recording was The Tony Rice Unit's Manzinita. If you're looking for a big finish, pick any track on that recording and go out on it. Like this:
Audio Clip: Little Sadie as performed by The Tony Rice Unit on Manzinita, 1979