Nobody's Business
As long as people have been talking, they've been talking about each other. And as long as they've been singing, they've been meeting that reality with some variation on the claim that their affairs are "nobody's business" but their own.
How many variations, you ask? Have a quick scroll through one website's (bluegrassmessengers.com) attempt to chronicle the different versions of Nobody's Business under the heading RECORDING INFO: T'Ain't Nobody's Bizness If I Do/Ain't Nobody's Business.
The first selection on that list dates back to 1882, a song entitled Nobody's Business But Our Own, published by J. W. Pepper of Philadelphia. It was written by C. W. Dockstader and performed in blackface as comic social commentary. One verse reads as follows:
A man and a woman get acquainted,
Both act a little strange about the head;
The next thing you hear about an elopement,
Then the man and the woman are wed.
You ramble out at night, get into a fight.
With your clothes full of mud you reach your home.
If your wife throws you out in the middle of the street,
Why it's nobody's business but my own.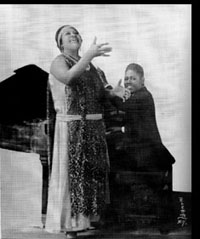 The refrain to that verse appears in a slightly altered form in another copyrighted work some three decades later, Tain't Nobody's Biz-ness If I Do by pianist Porter Grainger and Everett Robbins. One of the early rash of recordings of it was by vocalist Sara Martin who had either the good sense or good fortune to be accompanied by Fats Waller, who would have been about 18 years old at the time. In the audio clip below I've included the intro as well as two verses that follow the form that most folks familiar with the song recognize. And folks do recognize it; though the lyrics lend themselve to infinite adaptation, Porter/Grainger's song has proved itself a reliable vehicle for decades of jazz and blues artists. Just in case you have a hard time understanding the lyrics, I've included a transcription as well.
Audio Clip: Sara Martin and Thomas "Fats" Waller, 1922
There ain't nothing I can do,
Or nothing I can say,
That the folks don't criticize me;
But I'm gonna do just as I
Would do anyway,
And I don't care if they all despise me!

If I should take a notion
To jump into the ocean,
'Tain't nobody's business if I do.

If I let my best companion,
Drive me right in the canyon,
'Tain't nobody's business if I do.
Over time, what constitutes one's own business and that of others may have changed. Some verses included in older renderings of the song might hit bone, but not the funny one as intended. For example, Sara Martin's version of the song goes on to included these verses:
Well, I won't call no copper,
If I'm beat up by my papa,
'Tain't nobody's business if I do.

I'd rather he would hit me,
Than jump right up and quit me,
'Tain't nobody's business if I do
Unfortunately, similar sentiments mar many versions of the song, despite the long tradition of changing the lyrics to suit the singer's circumstances and artistic persona. Mississippi John Hurt included this oft-heard and always regretable verse when he first recorded a folkier version of the song for Okeh in 1928 as Nobody's Dirty Busness:
One of these days I might wake up crazy
Grab my gun and kill my baby
It's nobody's business but mine...
Well, John, I love you, man. But I think that particular attempt at establishing your personal boundaries might be the sheriff's business, too. Still, I love the rest of your version of the song, and your guitar never says an offensive word. Besides, you have the voice of a gentle soul and I don't think you mean it. So sing us a chorus, would you? A nice one...
Audio Clip: John Hurt in 1963 reprising his 1928 version of Ain't Nobody's Dirty Business
As befits a well-nigh universal sentiment, it has found expression in song across the boundaries of genre, tempo, race and gender. All four of those variables get swapped out for our next case in point. In 1950 Tennessee Ernie Ford teamed up with Kay Starr to parry each other's recriminations in a peppy, Pop-y, Western Swing take on our theme. Accompanying them for those sessions at Capitol studios were several stellar instrumentalists, including Jimmy Bryant on guitar, Speedy West on pedal steel and Harold Hensley on fiddle. The opening riff of this clip gives you a little taste of why Bryant was sometimes billed as "The Fastest Guitar in the Country."
Audio Clip: Tennessee Ernie Ford and Kay Starr in 1950, Ain't Nobody's Business But My Own.
Our version of the song is played in more of a Bluegrass or old-time fashion, so let's close out with a sampling of how artists in that vein have approached it. As proof that old-timey musicians have been playing this song for at least as long as jazzers, we have the colorful Earl Johnson with his Dixie Entertainers in an uncharacteristically restrained performance from 1927. (Heads up: remember that "oft-heard and always regrettable verse" I mention above? It's comin' round the mountain. Others are very funny, though.)
Audio Clip: Earl Johnson with his Dixie Entertainers, 1927
Bluegrass, of course, took root in the same soil as this sort of mountain music, so it's no surprise that structurally and melodically, the old-time and Bluegrass versions tend to be very similar. This cut dating back to the mid-1960's is from Don Reno and Bill Harrell with The Tennessee Cut-Ups. Ronnie Reno plays the mandolin solo and, fun fact, that's George Shuffler on bass. For the uninitiated, Shuffler is best known among guitarists as an innovative cross-picker. But that's a story for some other song we'll cover.
Audio Clip: Don Reno and Bill Harrell with The Tennessee Cut-Ups
Our tour ends with the first version I ever heard of this song and the one that most informs our Community Guitar arrangement of it. It's a performance by the great Norman Blake from the CD, Slow Train Through Georgia, which includes material from three albums Blake did for Rounder Records in the '70's and 80's. While not an exact transcription, our third solo to the tune borrows heavily from the solo you hear on this audio clip. If you get your ears on the whole track, you could do worse than to borrow a few riffs from Peter Ostroushko's mandolin work on this number as well. If Blake's tempo scares you, worry not. We can slow it down, and it ain't nobody's business if we do.