Peach Pickin' Time in Georgia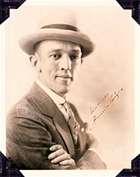 In 1961, Jimmie Rodgers became the first artist inducted into the Country Music Hall of Fame. His brass plaque there reads: "Jimmie Rodgers' name stands foremost in the country music field as the man who started it all." That seems to be the consensus view and it represents an incredible accomplishment for a man who lived only into his mid-30's and who spent more years working on the railroad than on the concert stage.
There are several short online biographies of Jimmie Rodgers that may be of interest. Here are two:
All Music Guide's bio of Jimmie Rodgers
And another at jimmierodgers.com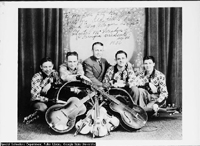 Peach Pickin' Time in Georgia is credited not only to Rodgers but to his friend and frequent sideman, Clayton McMichen. McMichen was a gifted and influential musician in his own right, a fiddler who won 18 national fiddle championships. After one such win — at the fiddler's convention at Macon in 1923 — a newspaper reporter dubbed him "The North Georgia Wildcat". The nickname stuck and after that any numer of his bands bore the name The Georgia Wildcats, including that shown to the left. In this photo, McMichen is in the center. Apparently he had a knack for running with the right crowd: to his left is a young picker by the name of Merle Travis. McMichen is also known for his work with another popular early country act, the Skillet Lickers. The clip below is of Jimmie Rodgers and Clayton McMichen playing Peach Pickin' Time in Georgia in 1932, about a year before Rodgers' death of tuberculosis.
Audio clip: Jimmie Rodgers and Clayton MicMichen (fiddle) on Peach Pickin' Time
The song has been performed and recorded by many, many artists over the years, including Merle Haggard, Hank Snow, Bill Monroe, Doc Watson and Willie Nelson. Here's a clip from Willie's version taken from a tribute CD that features various artists performing The Songs of Jimmie Rodgers (Columbia). Notice that on this version (as on ours) Rodgers' trademark yodeling has been handed off to the instrumentalists. Works just fine, doesn't it?
Audio clip: Willie Nelson on Peach Pickin' Time
While these versions, like the original, feature vocals, the song's progression and melody are strong enough for purely instrumental arrangements as well. Mike Auldridge and Bob Brozman teamed up with David Grisman on the third of Acoustic Disc's excellent Tone Poems series (ACD 42) and came up with an inventive double-resonator guitar rendition. Have a listen:
Audio Clip: Peach Pickin' Time from Tone Poems III
Recommended Recordings