St. James Infirmary
Before launching into one's learned explication of the history of St. James Infirmary, one might want to have a quick chat with Robert W. Harwood. He has written not one but two books on the subject. The first, A Rake's Progress, laid out what we might now call "the consensus history". According to this view, St. James Infirmary is a distant offspring of a much earlier folksong, The Unfortunate Rake. The Smithsonian/Folkways collection of the same name (shown right) consists of 20 songs that, together, are said to roughly trace the Rake's evolutionary passage through time and place, ever subject to the relentless selective pressures of the "folk process". Just in case you don't have The Unfortunate Rake loaded on your ipod, we'll start our survey with a clip of that song as recorded by English singer and folklorist, A.L. Lloyd, who was among the first (among many) to assign a connection to this song and St James in an article he wrote in 1947.
Audio Clip: A. L. Lloyd and Alf Edwards perform The Unfortunate Rake
Those of you who had a real folky for an elementary school music teacher may note the similarity this song bears not to our St James Infirmary, but to The Cowboy's Lament, also known as The Streets of Laredo. If so, send your teacher an apple (or at least an email of thanks) because those are indeed tracks 10 and 11 on the Rake collection. Skipping ahead to track 13 we have Dave Van Ronk's Gambler's Blues, which he recorded specifically for that collection. It also appears on another fine Folkways compilation devoted solely to Van Ronk's work for that label between 1959 and '61 (shown left). Have a listen:
Audio Clip: Dave Van Ronk plays The Gambler's Blues
You can hear, no doubt, that Van Ronk is playing essentially the same song as we are. (With a really nice twist to the chord progression in the second half of the song, don't you agree? If you want to try to figure it out you may find it useful to note that though he's fingering the tune in Am, he's capoed up a fret, so it sounds in Bbm.) But you are to be forgiven if you're having a hard time hearing the connection between Gambler's Blues and The Unfortunate Rake. Making that connection requires a lot of attention to arcane detail as well as imaginative interpretive leaps.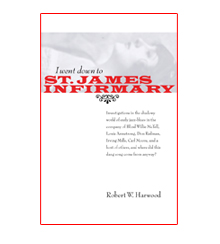 That's because there isn't really any connection between the two songs. Harwood—the guy who literally "wrote the book" on the subject—began to realize this only months after completing A Rake's Progress. I assume he found this as depressing as the subject matter of the song. Probably hauled himself up on the occasional stool at a reasonable facsimile of old Joe's barroom. But it didn't take long for him to get to a place of acceptance of his cruel fate and say, as does the protagonist in most versions of our song, "Let her go, let her go, God bless her." He then set about writing another book on the same subject to correct his own record: I Went Down To St. James Infirmary.
This time, knowing he was wandering into a territory marked with intentionally poor signage and populated by locals with a bad sense of direction, he approached the subject with the care, caution and tenacity of an investigative reporter. In the process he learned many interesting things and solved a number of music-history mysteries. Conspicuously absent from them, though, is the ultimate answer to the question he himself raises in the subtitle to his book: "Where did this dang song come from anyway?" In response to just this question in a 2008 interview, Harwood had this to say:
There is something mythical about St. James Infirmary. It seems to have always been here, although in its present state it is perhaps a hundred years old. The late American trombonist Jack Teagarden called it "the oldest blues song I know," but it's also jazz, country, pop . . . it even migrated to modern classical music. A number of people claimed authorship in the early days, but when blues singer Mattie Hite released her interpretation in 1930, the composer credit was to "Everybody" -- and that's about as accurate as it gets.
Since he mentioned it, here's a clip from that 1930 recording by Mattie Hite on Document Records.
Audio Clip: Mattie Hite sings St Joe's Infirmary (Those Gambler's Blues)
That is just one of something like 20 recordings of the song that were released just between the years 1929 and '30. Louis Armstrong and His Savoy Ballroom Five (shown left) recorded it in Chicago in 1928 and the song became very popular. Here's a clip of that session; the arrangement is by Don Redman:
Audio Clip: Louis Armstrong's 1928 recording of St. James Infirmary
Armstrong's success with the song not only spurred the recordings mentioned above (often on budget labels who could sell a record for as little as 15 cents rather than the extravagent dollar that Armstrong's OKeh release might cost) but also a high profile lawsuit over who owned the rights to the song's title. The plaintiff in the case was Irving Mills, who under the pseudonym Joe Primrose had, in 1929, claimed copyright not merely to his arrangement of the song, but to the song itself, as if he had written it. He hadn't, of course, but the music business has never been known for its scrupulous attention to, well, scruples. Since that time, Mills' publishing company has raked in royalties of all sorts for a song that was written, as Mattie Hite correctly put it, by "everybody". And the music biz tycoons wonder why few are crying crocodile tears for the industry's woes in recent years.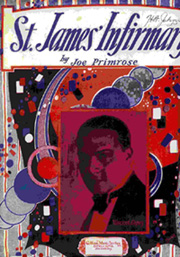 But I digress. To conclude, here are a few more audio clips that should give you a sense of just how deeply this song has gripped the imagination of musicians from before Armstrong's time right up to our own.
Robert Harwood himself once said that if he had to point a contemporary listener to a recording of the song that might pique their interest, he'd recommend Van Morrison. So here goes, live and in good form:
Audio Clip: Van Morrison singing St. James Infirmary
Doc Watson plays a sweet and distinctive version of the tune. This is from Third Generation Blues, recorded with his grandson Richard and released in 1999. For those of you who are using these clips to do some ear training, see if you can figure out (in order of difficulty) the key, the chord progression and the chord voicings you hear here. Also note the simplicity of the solo. A person (say, you) couldn't be blamed for borrowing it for occasional use.
Audio Clip: Doc and Richard Watson on St. James Infirmary Blues
We'll close with a banjo/vocal rendition by Pete Seeger. This is from the 5th and final volume of his American Favorite Ballads on Smithsonian/Folkways issued between 1957 and 1962. Of the collection one blurb I came across said this:
These are the songs Pete Seeger sang for America, songs every school child and summer camp attendee learned to sing and now sing with their children and grandchildren.
Somehow I'm having a hard time picturing the sing-along with the kids on this particular tune. Still, it's a classic if there ever was one. Play it with someone you love.
Audio Clip: Pete Seeger sings St. James Infirmary Blues