Stranger Blues
The earliest recognizable version of this song I have located is a fine one and an equally fine example of the sort of material Hudson Whittaker—better known as Tampa Red— was putting out just as our nation was heading into a longer, deeper economic depression than anyone expected. He was then often working with a pianist who went by the nickname "Georgia Tom". The same pianist, Thomas A. Dorsey, would later come to far greater renown and commercial success as a composer and publisher of gospel music.
Together, Red and Dorsey cut some 90 sides either as The Hokum Boys or, with Frankie Jaxon, as Tampa Red's Hokum Jug Band. "Hokum" in this context refers to the bawdy (some would say "raunchy") and humorous style of music that grew out of 19th century minstrel shows and found a niche in the nascent 20th century genres of jazz and blues. The style was epitomized by the woman who gave both Tampa Red and Dorsey a big break by hiring them in 1928, the Mother of the Blues herself, Ma Rainey. "Hokum" can also mean "insincere" or "illegitimate". It shouldn't take more than this audio clip to dispel any notion that that meaning applies in this instance. Guitar geeks will be interested to note that Tampa Red is playing slide on a National steel resonator guitar, a newfangled—and loud—contraption that had only recently come to market.
Audio Clip: Tampa Red and Georgia Tom on New Stranger Blues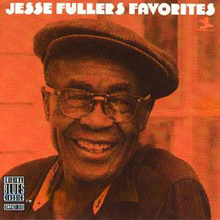 Although west-coast bluesman Jesse Fuller was born some 8 years before Tampa Red (in 1896), his professional musical career didn't start until Red's was winding down in the 1950's. He worked as a welder in a shipyard during the second world war, but after the conflict ended it became hard to find steady employment so he turned to that last refuge of all unemployables: guitarist. Not a "mere" guitarist, however. "The Lone Cat" was literally a one-man band, performing simultaneously on 12-string guitar, kazoo, harmonica, high hat cymbal and -- last but not least -- a pedal-operated sorta bass piano kinda stomp box he invented, calling it a "fotdella". Just in case that description isn't crystalline in its clarity, maybe youtube can help. If you'd like to see Fuller and his fotdella in action, here's a video of him playing his best known composition, San Francisco Bay Blues. On the audio clip that follows I'm pretty sure those lowest bass notes are played not on guitar, but on fotdella.
Audio Clip: Jesse "Lone Cat" Fuller playing Stranger Blues
I'm sure the first version of this song I ever heard was from Sonny Terry and Brownie McGhee. Terry served his journeyman years (again, the 1930's) playing harp with the Piedmont pioneer Blind Boy Fuller. When Fuller died, Terry teamed up with a new and equally gifted Piedmont-style picker, Brownie McGhee, and the pair were to become one of the best known and loved performers of the Folk Boom of the late 50's and 1960's. The singing and playing on this audio clip from their 1969 release Hometown Blues should make clear why. To my ears, the vocal harmonies recall instantly those we began with from Tampa Red and Georgia Tom.
Audio Clip: Sonny Terry and Brownie McGhee on Stranger Blues
So there's a pretty good sampling of how acoustic players have approached Stranger Blues. It's worth noting, however, that electric blues players have had at it as well. Among the most notable of them was Elmore James. Like Tampa Red, James is best known for his slide guitar work. But that may be a little like saying that Julia Childs is best known for her cooking. Cub Koda, in his bio of James at AllMusic.com makes this claim:
No two ways about it, the most influential slide guitarist of the postwar period was Elmore James, hands down.
If you are not familiar with James' work it may be because of another, less fortunate, fact of life he shares with Tampa Red, namely, that neither had the benefit of "rediscovery" during the Folk Boom years. In Red's case, depression and alcoholism that worsened after the death of his wife kept him off the scene despite others' repeated attempts to coax him back onto the stage and into the studio. For James it was heart trouble of a simpler but no less tragic sort. Over the years his career was interrupted repeatedly by poor health attributed to a recurring heart condition. He suffered his final heart attack at age 45, in 1963. I believe this take on Stranger Blues was recorded just a year earlier, in 1962. It was later covered by a host of blues rockers—Fleetwood Mac, Johnny Winter, The Steve Miller Band, Canned Heat—many, if not all, no doubt inspired by this version.