Winin' Boy Blues
In 1938, folklorist Alan Lomax and New Orleans musical icon Joseph Ferdinand "Jelly Roll" Morton came together to produce the first major recorded oral history of early jazz. Throughout these wonderful recordings — now available as the boxed set shown left — Morton shares stories and solo vocal-piano renditions of his music. Winin' Boy Blues was first recorded during those sessions. Here's a short clip from that original recording:
Audio Clip: Jelly Roll Morton on Winin' Boy Blues, 1938
Morton also did a commercial recording of the song for Bluebird in 1940. This was necessary not only to add instrumentation, but no doubt to clean up what my mother would call the "gutter mouth" lyrics of the original verses, which would have been way over the line for general consumption then or now. This is from that recording:
Audio Clip: Jelly Roll Morton's commercial recording of Winin' Boy Blues, 1940
Though we may not be joining in a sing-along of the original lyrics to this number, they do help us understand the otherwise inscrutable title of the song. The first version I ran across was that of Hot Tuna, as Whinin' Boy. Apparently Jorma is quite familiar with the explicit nature of the 1938 version, as a full listen to the cut from which this next clip is drawn would make clear. Our snippet is sans-nasty though, and will give you a feel for how Hot Tuna approached the tune on one sweet night at Sweetwater in Mill Valley, CA circa 1992.
Audio Clip: Hot Tuna digs into Whinin' Boy , 1992
While whinin' (with an h) may seem the most obvious transcription of what Morton was saying, I've never run across any explanation of what that reading might mean. Whining? About what? And what's it got to do with the rest of the original lyrics, all of which recount the sexual appetite and prowess of the singer? On this score the original spelling, winin', offers more promise. A double contraction of the word winding, the term presumably celebrates the agility and flexibility of the bearer's pelvic area, which is deftly employed on amorous occasions. The term corkscrew comes, quite explicably, to mind.
The other mystery term that crops up in this song is Stavin' Chain, sometimes written as Stave 'N Chain. There was an actual tool called a 'staving chain' used in barrelmaking to hold loose staves in the shape of a barrel while the hoops were hammered down over them. It worked much like a choke collar and the same name is sometimes used to describe the ankle chains worn by prisoners on chaingangs. Some with vivid and otherwise unoccupied imaginations say that in the context of the song, the term stavin' chain refers to a similar (though one would hope, smaller) contraption with an erotic application.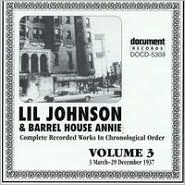 Regardless, that term shows up in other blues tunes, most often as the name of a person who will literally or metaphorically drive you hard. Literally, Stavin' Chain would have been a gangboss, pushing the shackled prisoners under his rough care to exhaustion. Metaphorically, the big boss man may have been wielding a different sort of "stave", but he'd still wear you out. That seems to be the thrust, as it were, of Lil Johnson's 1937 recording of Stavin' Chain (That Rockin' Swing), which we'll sample here just for fun. If you don't hear the roots of Rock N' Roll in this cut, you got a wicked stave in your ears. This is from Volume 3 of her Complete Recorded Works on Document Records. All risqué, all the time.
Audio Clip: Lil Johnson and Barrel House Annie's Stavin' Chain (That Rockin' Swing), 1937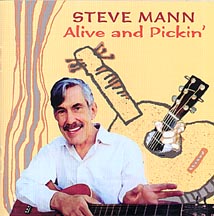 Though the song is clearly intended as a vehicle for male bragging, that didn't deter Janis Joplin from strutting her stuff on it with her own inimitable abandon. This next clip is from a live recording of her running the tune with Steve Mann in the mid '60's when both artists were at the height of powers that would diminish too soon. Joplin had asked Mann to accompany her at a benefit for the Congress On Racial Equality (CORE) and he brought a tape recorder to the rehearsal, which explains both the poor audio quality and the lovely looseness of the treatment they give the song. For the benefit of those who are not familiar with Steve Mann's playing I've included a whole chorus of his fine fingerstyle solo. If you care to try copping any of it you'll want to take into account that although he's fingering the song in the same key as our arrangement (C), his guitar is tuned down a half step. Steve Mann's recordings have only recently again been made available and I encourage you to check them out here, at his website.
Audio Clip: Janis Joplin (vocals) and Steve Mann (guitar) on Winin' Boy Blues

There are many and diverse recordings of this song we could sample here. David Bromberg covered it (in an arrangement that clearly bears the influence of Mann's, above) on his 2007 solo outing, Try Me One More Time. Leon Redbone could very well have done a nice fingerstyle version himself, but instead opted for piano accompaniment on his 1976 release, Double Time. The list could go on for some time. But we'll close instead with a tasteful instrumental rendering of the song by guitarist John Carlini and mandolinist Butch Baldassari from their 2001, Reflections. The beauty of the clip is made bittersweet by the news that Baldassari died recently (January 10, 2009) at the age of 56 after a long battle with cancer. The following clip will give you just a taste of what exquisite music he gifted us while he was here.
Audio Clip: John Carlini (guitar) and Butch Baldassari (mandolin) on Winin' Boy Blues