Bring It On Down To My House
Although just about every song that has ever been performed by man or beast has been copyrighted thrice over (the beasts are particularly dogged on this front), there are several tell tale signs that a song actually emerged more or less collectively from the primordial ooze, the liquid core of the musical planet we inhabit. A few such signs are these:
The same essential song has umpteen titles. Maybe more.
Everybody sings the song with different lyrics.
Those same lyrics are used in other songs as well.
The song is played in a gillion different styles. Maybe more.
I give you Bring It On Down To My Place as exhibit A. Although the song is often attributed to Western Swing great Bob Wills these days, the earliest known recordings of the song are by country blues artists of the late 1920's and '30's. We'll sample two here. The first is by Blind Willie McTell, recording under the pseudonym Blind Sammie in October of 1929. If not for his death in 1959, McTell would no doubt have been "rediscovered" during the Great Folk Scare of the 1960's. Even without the late-in-life carreer boost that others enjoyed, he has had an enduring influence on many of the folkies who came to prominance during that era, including Bob Dylan, who immortalized him in his 1983 song Blind Willie McTell:
Well, I heard the hoot owl singing
As they were taking down the tents
The stars above the barren trees
Were his only audience
Them charcoal gypsy maidens
Can strut their feathers well
But nobody can sing the blues
Like Blind Willie McTell
Not only can he sing, but as you will hear on the following clip, his fingerstyle 12-string guitar playing is solid and accessible, even for those who haven't caught the dreaded early blues bug. His version of the tune is titled Come On Around To My House Mama.
Audio Clip: Blind Willie McTell on Come On Around To My House Mama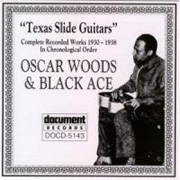 Next up, Oscar "Buddy" Woods, a street musician also known as "The Lone Wolf" who spent much of his adult life in Shreveport, LA. Though Woods is not a familiar name even to many traditional blues buffs, according to a fine short biography by Uncle Dave Lewis, he is recognized as something of a pioneer on two counts. First, he is credited with having participated in the earliest known recordings by a mixed-race musical group in the south. (With one Jimmie Davis, whose strange dual claims to fame were a hit recording of You Are My Sunshine and two non-consecutive terms as an ardent segregationist governor of Louisianna. Go figure.) Woods is also counted among the very earliest players of lap steel bottleneck blues guitar, which he picked up after seeing a troupe of travelling Hawaiian musicians in the 20's. In the clip that follows there's both a vocal chorus and a solo played on slide guitar. It is from a recording of the song he made on the Vocalion label in 1937 under the title Come On Over To My House Baby.
Audio Clip: Oscar "Buddy" Woods sings and plays Come On Over To My House Baby
Right around that same time (1936, to be exact) Bob Wills and His Texas Playboys gave the song their inimitable stamp and it has been a Western Swing standard ever since. The following clip features Tommy Duncan on vocals, then a fiddle break (by Wills himself, I believe). For Level 2 and 3 players, the latter would make a great transcription project. Just load this mp3 into your favorite slower-downer and cop away. As an added bonus you get to then transpose it from their key (D) to ours (G). Pure learning pleasure, guaranteed.
Audio Clip: Bob Wills and His Texas Playboys on Bring It On Down To My House
Just to demonstrate the elasticity of a great song, here's an utterly different version of it, now appearing as Hurry On Down. A number of jazz and pop performers have recorded the song under that title, including Bette Midler and the artist we'll feature next, the great Joe Williams. In the late '60's, Williams did some recording with the Thad Jones-Mel Lewis Orchestra, including this cut. The title notwithstanding, he doesn't seem to be in the slightest hurry here. Although it may not be immediately apparent, this version leaves the essential progression of the tune intact, but slightly disguised by several chord substitutions and embellishments commonly used in the jazz idiom. Working those out would make another great project for someone looking for an ear stretcher. Just follow the bass and the chunking rhythm guitar.
Audio Clip: Joe Williams sings Hurry On Down
By contrast the Red Stick Ramblers, a fine contemporary Cajun Swing band, are all about hurrying in this, our final stop on the tour. Clearly inspired by Wills' version, but up a notch or two on the tempometer, you may not quite be able to jam with this crew, but you can always do a two step! This is the title cut of their 2003 release, shown right.
Audio Clip: The Red Stick Ramblers on Bring It On Down To My House