Key To The Highway
All Music Guide has this to say about William Lee "Big Bill" Broonzy, the author of this blues classic:
In terms of his musical skill, the sheer size of his repertoire, the length and variety of his career and his influence on contemporaries and musicians who would follow, Big Bill Broonzy is among a select few of the most important figures in recorded blues history.
Key to the Highway is among Broonzy's best-known songs and has been covered countless times. Here's a clip from his own recording of the tune in the early 1940's. If you are looking for a good ear-training exercise, try your hand at both the bass line he is playing during the full instrumental chorus as well as the riff he plays after singing.
Audio Clip: Big Bill Broonzy playing Key to the Highway
Broonzy was comfortable and influential as both an electric and acoustic bluesman and Key is done both ways. Here's an acoustic treatment from the playing of Sonny Terry and Brownie McGhee.
Audio Clip: Sonny Terry and Brownie McGhee playing Key to the Highway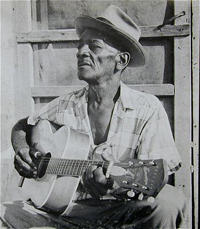 The great Texas songster Mance Lipscomb was born around the same time as Broonzy (in the late 1800's) but his musical career had an entirely different arc. He didn't record until the 1960's, having spent the bulk of his life as a tenant farmer and part-time performing musician. He lived long enough, though, to gain wide exposure and appreciation during the great Folk boom of the 1960's, whereas Broonzy himself died in 1958.
Here's a clip of Lipscomb's take on this tune in his inimitable style. Notice the powerful bass played with his thumb. On this cut it seems to shift between an alternating pattern and a monotonic one (thump, thump, thump on one bass note per chord). This provides a strong and steady foundation for the syncopated chordal and melodic work on the higher strings. Beautiful.
Audio Clip: Mance Lipscomb playing Key to the Highway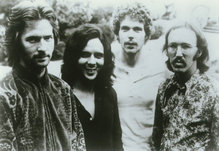 But — surprise! — it was young white guys who made the tune a hit. (Let's hope Broonzy got his royalties.) Derek and the Dominoes were no slouches, though. Eric Clapton fronted the outfit and was backed by crack session players. They released all of one disc, Layla and Other Assorted Love Songs, which did nothing upon release in the UK but gained steam, went gold in 1971 and has since become a Rock & Roll classic. Key to the Highway was on that recording. Although this is an electric version with full blues band cranking, the groove of our arrangement of the song is probably closer to their treatment than the acoustic versions above. Have a listen:
Audio Clip: Eric Clapton & Co. on Key to the Highway
Recommended Recordings