Lost Highway
Never heard of Leon Payne? Well, maybe you've heard a couple of the hundreds of songs he wrote. Our best bet would be that somewhere along the way you got the Elvis bug and checked out his earliest Sun recordings, in which case he had you swooning to Payne's I Love You Because. If not that, then maybe you're a Hank Williams fan and think, like most folks, that he wrote Lost Highway. He didn't; he did, however, come pretty close to living it.
And now I'm lost, too late to pray,
Lord, I've paid the cost on the lost highway.
No one claims that Leon Payne himself ever got as lost as Williams, but he was a prodigeous hitchhiker who—like the protagonist of the song—did find himself stranded on the occasional highway. In fact, his wife Myrtie told the story* that Payne wrote this very song while stuck on a long hitch home from California to visit his sick mother. That would have been the road to Alba, Texas where Payne was born in in 1917. Born blind, the youngster was encouraged to study music as a means to eventually support himself, which is precisely what he did. By the time he joined Bob Wills' Texas Playboys at the age of 21 he already had several years of live and radio performing under his belt. Over the course of his long career he would perform in a variety of groups and settings, but he remained affiliated with the Playboys throughout. It will come as small surprise, then, that his own (rarely heard) take on Lost Highway has the feel of classic Texas Swing. The ebullience of this cut almost makes you ignore the lyrics—so you can focus instead on your two-step. I've included the steel guitar solo on this clip in case you want to snag any portion of it; very tasteful and altogether accessible.
Audio Clip: Leon Payne sings his own Lost Highway, 1949.
The version that really kept Lost Highway from getting, well, lost with so many of Payne's other songs was that of Hank Williams. He recorded it with His Drifting Cowboys for MGM in 1950 and scored only a minor hit, but made a lasting impression on generations of musicians since. The song suits Hank's life story so well that Randal Myler and Mark Harelik recyled the title for the stage play they wrote based on Williams' life and music. That Lost Highway debuted on Broadway in 2003, the 50th anniversary of Williams' death. But all back-story aside, Hank just nails the song. See if you don't agree.
Audio Clip: Hank Williams sings Lost Highway.
Lost Highway has ever since been a mainstay for "country" performers of any stripe, vintage or marketing niche. That would include Bluegrass, which will be represented in this instance by The Osborne Brothers. Nowadays—once you have excepted the Bluegrass Holy Trinity of Bill Monroe, Lester Flatt and Earle Scruggs—you can't get a whole lot more legit than Sonny and Bobby Osborne. But back in the day ("the day" being the 1960's) the Osbornes were trailblazers of the sort that raised eyebrows and ire, most notably for including both electric instruments and percussion in their bluegrass recipe. Fortunately, there was a lot of Gospel in their repertoire, which likely explains why they were never struck down by a Higher Power for this outrage. Plus, God loves good vocal harmonies. Like these...
Audio Clip: The Osborne Brothers on the Lost Highway.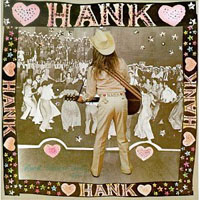 The song has since been covered by many performers who are not generally associated with the country mainstream, like Jerry Lee Lewis, Tom Petty and Bill Frisell. And for that matter, Leon Russell. In the early 1970's Russell was at the height of his popularity as a rock musician. In 1971 he earned his first Gold record with Leon Russell and The Shelter People; the following year he had me singing along to Tight Rope on Casey Kasem's American Top 40. (Along with Don McLean's American Pie and Neil Young's Heart of Gold, both of which I would be playing in just a few years, when my hands were bigger. But I digress.) Then, in one of those fits of irrepressible artistry that makes managers and record company suits reach for the Maalox, Russell released the first of four all-country / bluegrass albums under the moniker of his Okie-alter-ego, Hank Wilson. The attentive reader will find curious the title of Hank Wilson's debut: Hank Wilson's Back. But then, their very attentiveness testifies to the fact that such readers are in no frame of mind to be contemplating the logic, such as it was, of the late 60's and early 70's. I, by digressing twice in one short paragraph, am.
Still, there's nothing psychedelic about Russell/Wilson's take on Lost Highway. He does give it a nice New Orleans-style bounce, though. And notice the fills played by his slide-weilding sideman. The phrasing of some songs just lends itself to that sort of thing. Follow this guy's lead, so to speak, when we jam on this one.
Audio Clip: Leon Russell (aka Hank Wilson) performing Lost Highway, 1973.
*Telephone interview, Dec 20, 1972; reprinted in Dorothy Horstman, Sing Your Heart Out, Country Boy, New York, 1976, p. 368.