Wagon Wheel
Wagon Wheel is credited to both Bob Dylan and Jay (Ketch) Secor of Old Crow Medicine Show, but it wouldn't be entirely accurate to say they co-wrote it. So there you have a good song and a good riddle in one package: such a deal!
Oh, and you get a movie to boot: the 1973 Western, Pat Garrett and Billy the Kid, directed by the great Sam Peckinpah. Peckinpah needed a title song for the film and co-star Kris Kristopherson recommended Dylan. The young songster got not only the gig to score the film, but also a small acting role as a character named "Alias".
By all accounts the production of this shoot-em-up was marred by gun slinging of another sort between the director and the suits at Metro-Goldwyn-Mayer. Dylan got a few good songs out of it, though, including one of his most iconic hits, Knockin' on Heaven's Door. At one of the recording sessions he also improvised the nub of a song that was never used in the film but was later dubbed Rock Me Mama. Here's a clip of that session:
Audio Clip: Bob Dylan on Rock Me Mama
Ketch Secor was in High School when he heard that recording on a German bootleg, and apparently it made an impression. In a radio interview years later he had this to say:
I wrote the lyrics to the song because I loved the chorus so much and I sung it in my head for maybe a year straight, and then just penned what I penned, which is something of an autobiographical story about just wanting to get outta town, gettin outta school, and just wanting to go play music.
The completed song — retitled Wagon Wheel — was included on Old Crow Medicine Show's major label debut, O.C.M.S. in 2004. Here's how they do it:
Audio Clip: Old Crow Medicine Show playing Wagon Wheel
Photo by Jordan Reed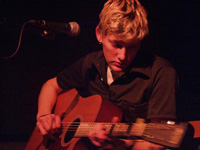 This young old song is destined for multiple waxings — er, digitizings — and the covers are already starting to roll in. Here's one well done by an artist local to Community Guitar Central in Western Mass, Chris Pureka (shown right).