Community Guitar Classes
with Andrew Lawrence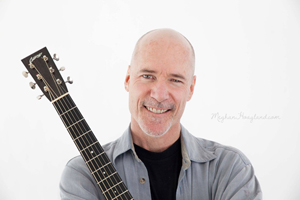 Photo: Meghan Hoagland
Fall 2019 10-week classes
These classes form the backbone of the Community Guitar program, offering participants the opportunity to build technical skills, repertoire and relationships all in one spot. We meet weekly for 90 minutes, usually taking on 4 songs per 10-week session. We generally work in one major key -- and perhaps its relative minor -- the whole time. This fall we'll be working in the key of E.
The exact mix of classes/levels is determined in large part by the abilities and interests of the participating students, but what you see in the table below is what I'm proposing for the fall. The class levels break down roughly as follows:
Fundamentals: A good place to start if you have never taken a Community Guitar class before, or struggled to keep up in a Level 1 class. Our primary goal will be to learn one rhythm part and one simple solo for each of the 4 songs we'll cover this fall. That will get you in the game. (Please note, these classes are not suitable for total beginners. You should, at a minimum, know common chords and be able to strum through a few simple songs.)
Level 1: Here too our goal will be to get least one simple solo and a basic rhythm part under your fingers. But we may add a second, or alternate, rhythm part to spice things up. We'll also get started building the knowledge-base you'll need to get more creative in the future.
Level 2: At this level I assume you can mostly learn the basic guitar parts on your own at home working with the materials (written, audio, video) that I'll provide. Class time will be devoted to creative musicianship: how to work up your own solos and rhythm parts building on what I've provided.
If you know where you belong, great -- just let me know what class you'd like to join. If you are considering joining one of these study groups for the first time, please get in touch as early as possible so we can find the best group for you to work with and make sure you're ready. You can reach me in either of these ways:
Phone: 413.320.8154
email: andolawrence AT gmail DOT com
Fall 2019

Mondays (starting Oct. 7)

6–7:30 Level 1

7:30–9 Advanced Level 2*

Wednesday (starting Oct. 2)

6–7:30 Level 2*

7:30–9 Level 2*

Thursdays (starting Oct. 3)

4:00–5:30 Level 1
* Prerequisites for participation in a Level 2 class are as follows:
Know the 5 chord shapes -- C-A-G-E-D -- and what chord they give you when positioned anywhere on the fingerboard.
Know how to play the major arpeggio associated with each of those 5 shapes.
Know how to play the major pentatonic scale associated with each of those shapes.
Know how to play each shape as a variety of three-note partial chord shapes.
If you are not yet familiar with the material outlined above (or you could use a refresher) I will be going over it in a three-week "mini-class" on Wednesday nights, starting on September 11th. I'll offer two sessions of that class:
From 6-7:30 will be starting from scratch with an intro to the CAGED System.
From 7:30-9 will be a refresher for players who are already somewhat familiar with the CAGED System, but who are rusty, slow or just up for a workout.

If you are totally new to the "CAGED System", please have a look at the CAGED Primer you can find on this page of Resource Sheets for Community Guitar students.