For Prospective Students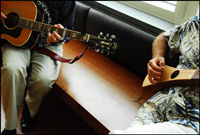 Photo: Leslie F. Miller
Community Guitar works because we have a clear focus. We are not trying to be all things to all people, only the very best option for you, so long as:
You're an adult, not a kid.
You play acoustic, not electric (in class, at least!)
You want to focus on jamming, not playing solo.
You enjoy a variety of styles, not just one.
If that's who you are and what you're about, here's what Community Guitar offers in one neat package.
Play regularly with other people.
In every weekly Community Guitar class you are making music with others. Not getting ready to do it, but doing it — with real live human beings who live near you, share your interests and know the same material.
Build an eclectic repertoire of great jam tunes.
Nothing brings a jam crashing down around you faster than the wrong song. It may be a great song, mind you, but that doesn't make it a great vehicle for jamming. As it happens, you can find these songs in all sorts of styles, from traditional country and bluegrass to blues, R&B, folk and jazz. Our songs are carefully selected and time-tested with just this purpose in mind.
Develop strong rhythm and lead guitar skills.
In a Community Guitar class everyone is both a rhythm and a lead player. Every song you learn with us is presented in a multi-guitar arrangement crafted not only to sound great, but to target specific right and left hand skills that will keep you at your growing edge as you move up through class levels.
Understand essential music theory and the fingerboard.
Music theory is often treated as a separate subject from learning tunes, but in a Community Guitar class we feed both birds with one seed. Whether you are learning something as basic as the construction of a major chord (at Level 1) or working on voicing leading through cycling dominant 7th chords (in higher levels), we help get your head on board with your hands.
Learn to adapt and improvise.
Although we start from terrific multi-guitar arrangements to the songs you study, our ultimate goal is not for you to perform them as written, but for you to make them your own. As you move up through class levels our focus shifts increasingly toward helping you adapt whatever we've given you and improvise in real time.
Making all this available is a combined effort. On the local level, there's your area's Community Guitar teacher, who may be working under the auspices of a host institution (or not). They pull a local group together and lead weekly classes and special events. We at Community Guitar make up the other half of the team. Our job is to make it possible for your instructor to serve you in ways he or she couldn't possibly do alone. As in a jam, what we can create together is so much more (and so much more fun) that what we can do in isolation.
Please use the links below to find a Community Guitar program in your immediate area (or help us get one started) and to learn more about us. Then get in touch and let's make some music happen.