Sample Our Instructional Materials
Photo: Jeremy Lange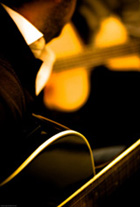 In the table below you'll find links to two samples of our written and recorded instructional materials. Although the arrangement of Blues Stay Away From Me is listed as Level 1, it would now be closer to a Level 2 arrangement. (Over time, Level 1 has gotten simpler, so as to accomodate more newcomers.) Similarly, the "Level 2" arrangement of Hesitation Blues is closer to what we would use in a Level 3 class.
You can either view the written music on screen or print it out. For printing, though, please take note of the oversized dimensions of the paper. If you are printing on standard 8.5 x 11 sheets of paper, make sure your printer is set up to scale them down so everything fits on the page. Once you've downloaded the written music, have a listen to the audio clip and read on.

Song Title and Level

11x13 sheet

11x17 sheet

Audio

Blues Stay Away From Me
(Level 2 )

Hesitation Blues
(Level 3)
These samples should make clear some of the features that set our instructional materials apart:
Levels
Community Guitar offers classes at three or four distinct levels of ability, two of which are featured here. (Level 4 is all about coming up with your own solos and rhythm parts to the songs, so we can't very well give you a sample of that here!) Please note that whenever practical our songs are presented at all levels. At each level you are using the song to develop a different skill-set, of course, but this approach assures that Community Guitar students will share plenty of common ground, regardless of level. For more on what distinguishes the levels, how we select our songs and other topics please see About Our Levels.
Wide format layout
All the material for each song is presented on two oversized sheets of paper (11x13 and 11x17) which face one another in a custom Community Guitar three-ring binder. In either a class or a jam setting, you will want to move from one rhythm part to another, from rhythm to lead, or perhaps to sing a verse. Our unique layout allows you to see everything you need at one time so you can move between these different parts with no shuffling of paper.
Multiple rhythm and lead parts
At all but Level 1 we provide multiple parts for each song, for two important reasons:
We use these parts to explore the various ways a rhythm guitarist might contribute in a group setting. For example, a strummed rhythm guitar part in open position may be complimented by a bass line, a fingerstyle accompaniment or something farther up the neck.
Multiple parts also enable teachers to accommodate different skill levels, even among players in the same class. The first solo, for example, generally reflects the low end of the skill-set required to participate at a given class level whereas the second solo represents the high end of that level. Some students may only be ready for Solo 1, but others will want to learn both. This kind of flexibility keeps everyone engaged and participating at a pace that is right for them.
Extensive audio tracks
Take a close look at the CD track list for either of the written samples (found on the title page.) The CD that accompanies Community Guitar written materials is designed to help you make the very best use of your practice time by breaking both the rhythm parts and solo into manageable units presented at various tempos. Our CD's also often include backup rhythm tracks for improvisation exercises.
Integrated theory and (at Level 2 & 3) improvisation exercises
Although we begin our work on every song from an arrangement, our goal is not to perform as a guitar ensemble, but to jam. By integrating music theory and fingerboard insight into the study of every song, we insure that your head supports your hands as you build your capacity for creative musicianship. We provide resources for this study in three ways:
Upon registering for a Community Guitar class for the first time you download a Theory Primer appropriate to the class level.
That primer lays the foundation for the Theory and Exercises page you see on the written sample you downloaded above.
For special topics that arise in the course of these exercises, we have an ever-growing catalogue of Resource Sheets that Community Guitar students can access through communityguitar.com.
Online supplementary resources
In addition to the Theory Primers and Resource Sheets mentioned above, you will have access to a variety of other resources through communityguitar.com. For example, every song in our repertoire has a web page devoted to it with history and audio samples demonstrating how various artists have approached it. Here are links to the pages devoted to our two sample songs.