For Prospective Community Guitar Teachers & Hosts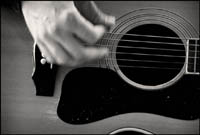 Photo: Leslie F. Miller
There is a vast pool of adult acoustic guitar players out there who are not drawn to the options they see available to them, including private instruction. As a result, that "pool" is largely stagnant. Many of these people would very much like to be playing more and developing their guitar skills, but they want something that no one is offering them on an ongoing basis: fun, connection and high-quality instruction all bundled in one package.
That's Community Guitar, and if you are qualified to teach classes or host the program I invite you to offer it in your area. To get a better idea of exactly what you would be offering, be sure to follow the links For Prospective Community Guitar Students and for our Frequently Asked Questions at some point. Here, I'll focus on what Community Guitar offers you, namely:
A distinctive service that sets you apart from the myriad offers of generic "guitar lessons" and that reaches a new, untapped market.
More students, especially during prime time evening hours. Among other things, this means an expanded network of support for whatever else you do.
Higher student motivation which translates directly into more consistent practice, longer student retention and greater satisfaction for everyone involved (including you!)
Higher hourly earnings, something anyone in the music education business could use.
Your Role and Mine
A successful Community Guitar program requires that three critical roles be filled, two of them at the local level and one (mine) from a distance. On the local level we need a certified teacher and a licenced program host. Both of these roles could, in fact, be performed by the same person (a licenced teacher/host) but since they represent such different functions I consider them separately.
The teacher, of course, is responsible for teaching. Leading a Community Guitar class requires strong technical, improvisational and teaching skills in a wide variety of acoustic guitar styles, including flatpicking, blues and swing. Although we incorporate some fingerstyle guitar into our arrangements, it is not our primary focus, so facility with a pick (especially strong alternate picking technique) is more important. Performing this role also requires a firm foundation in music theory, great people skills and genuine enthusiasm for the means and ends of Community Guitar.
The host is responsible for marketing and providing a venue for the classes. After all, without effective marketing, even the greatest of teachers (offering the greatest of programs) will have no one to teach.
My job here at Community Guitar is to provide the resources that will make it easier for you to perform either of those roles at a level of effectiveness and professionalism that would be utterly impractical (if not impossible) working on your own at the local level. These resources include:
An integrated, multi-level program design that accommodates everyone from near beginners to very skilled players. For more on our three levels of classes.
Extensive written, recorded and online instructional materials that—unlike anything else on the market today—are specifically designed for working with guitarists in a group. You can sample them here.
A growing collection of professionally designed marketing materials that are adaptable for local use, including a brochure, flyers, postcards, display ads, press releases and this website. You can sample them here.
Ongoing support services that reflect my personal commitment to your success.
A Good Fit? Let's Find Out.
Working together, we can do so much more than either of us can do alone. But first we have to find out if the fit is right. The first step is a mutual interview—better known as a conversation. We both have basic questions for each other. Let's talk. Here are two easy ways you can make that happen:
Dial 413-268-0068. The name is Andrew Lawrence.
Drop me an email and let me know you'd like me to contact you. Please provide:
Your name
The name of any institution you represent
Your mailing address
A phone number and your preference of when I should contact you.
Thanks for your interest in Community Guitar. I look forward to hearing from you and working together.